Le cadeau idéal pour une maman
Cadeaux originaux pour la fête des mères


La bague mood est un concept interchangeable créé et désigné en suisse depuis 2004.
Grâce à lui, vous créez votre propre style et définissez vos propres tendances.
Personnalisez votre bague à l'infini !
Use our hashtags to be featured
#chooseyourmood #moodaddict #moodring
Livraison internationale | 100% satisfait ou remboursé | Paiements sécurisés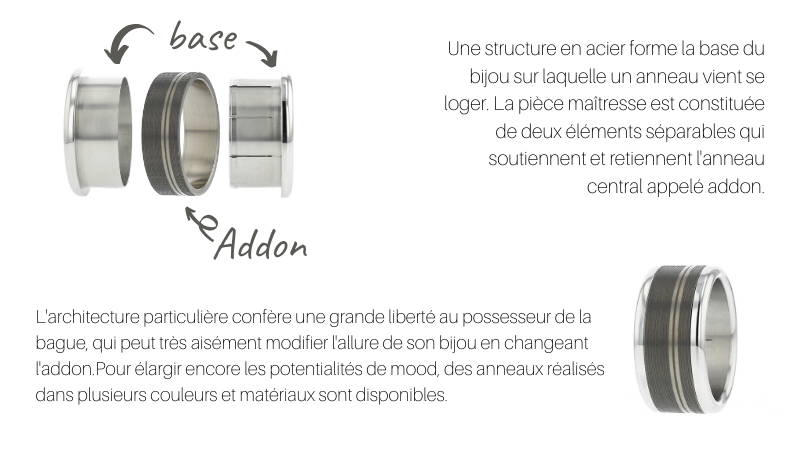 ---
Pas encore de bague chez nous ?
Choisissez une base parmi notre sélection spéciale Fête des mères
---
Collection spéciale Fête des Mères 2020
Trouvez l'idée de cadeau parfaite pour la fête des mères.
---
Des couleurs parfaites pour l'occasion ! Profitez des offres du moment.
---

Avec eux, impossible de se tromper. Profitez d'offres inédites jusqu'à -65%
Vous n'êtes pas sûr(e) de votre choix ?
Aucun problème ! Pour un cadeau, vous pouvez nous retourner votre commande si cette dernier ne plaît pas. Vous pouvez également retourner votre commande si vous n'avez pas choisi la bonne taille. Pour plus d'information sur nos conditions d'échange et d'expédition, cliquez ici.
Sélectionnez "taille inconnue" si vous n'êtes pas sûr(e). Nous vous enverrons un baguier gratuitement qui vous permettra de définir la taille parfaite pour votre bague mood.
Quels sont les moyens de paiement ?

Vous pouvez réglez vos factures par carte de crédit, TWINT, PayPal, virement bancaire ou facture à 30 jours. Tous nos paiements sont sécurisés et notre site internet possède un certificat de sécurisé SSL (Secure Socket Layer) utilisant un certificat d'encryption de haute sécurité.
Quelles sont les garanties ?
Concernant les garanties, échanges et remboursements, veuillez cliquer ici. Tous nos articles possèdent des garanties de fabrication et l'usure naturelle de tous les modèles de bases sont garanties à vie. Nous nous réservons cependant le droit de refuser une réclamation si le produit venait à être détérioré anormalement.
Nous expédions notre marchandise depuis nos ateliers en Suisse à travers le monde entier. Les délais de livraison sont compris entre 3 et 15 jours ouvrables selon la pièce choisie et sa disponibilité. Les délais peuvent changer selon le pays dans lequel vous résidez. Les estimations de date de livraison disponibles sur le site sont approximatives. Nous mettons à disposition un numéro de suivi de vos colis si besoin.